If you're looking to use VMware NSX's Guest Introspection feature, you're going to need theGuest Introspection Thin Agent component installed with VMware Tools. This feature is not installed by default, which requires going back and updating your VMware Tools installation.
Did you know...
This feature was known as the VMware vShield Endpoint Thin Agent prior to the ESXi 5.5 Update 2 release, which is when VMware renamed it the VMware Tools Guest Introspection plugin (source).
Feature Check
If you're not sure if the feature is installed, open up the Programs and Features portion of the Control Panel and find VMware Tools in the Uninstall menu. Rather than choosing uninstall, select Change.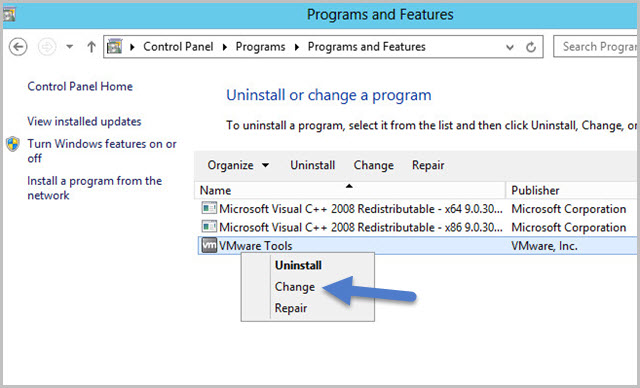 The Program Maintenance window will appear. Select Modify.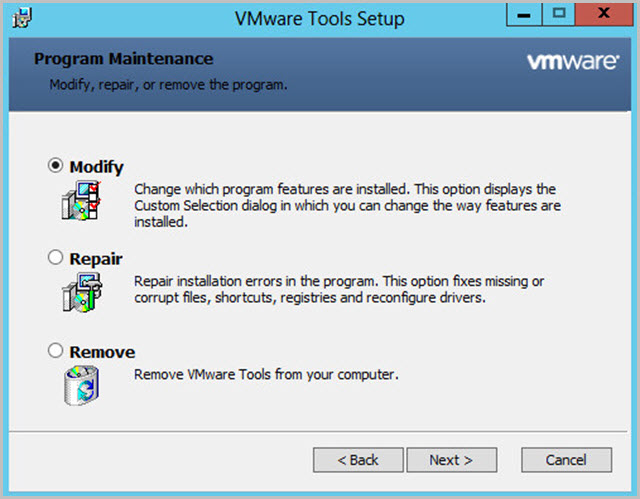 From here you can inspect which features have been installed. Below is a default installation on a Windows 2012 server. Note that Guest Introspection Drivers and Shared Folders are not installed. The "secret" feature names for these are VShield and HGFS, respectively.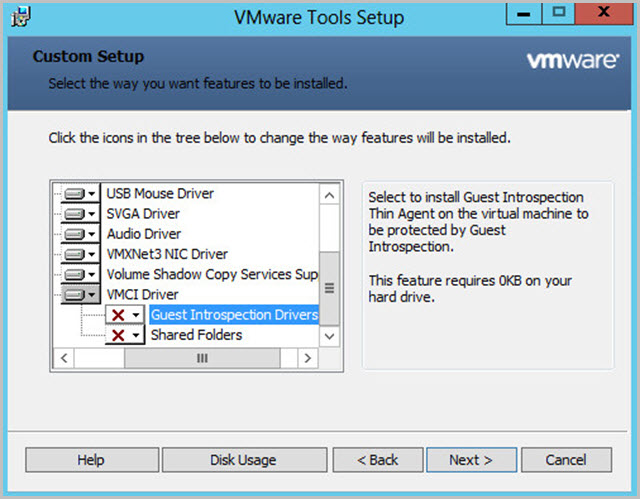 If you're looking to fix one server, this method would suffice. But that's no fun! Let's install Guest Introspection to a bunch of VMs, easily.
Updating VMware Tools
If you take a peek at the vSphere 5.5 public documentation, you'll see a page that describes a few VMware Tools silent installer examples. I like to use the one that opts out of Shared Folders (HGFS) but installs all the others. The arguments are:
/

S

/

v

"/qn REBOOT=R ADDLOCAL=ALL REMOVE=Hgfs"
Here's what all of those funky switches do.
The first two arguments are for the InstallShield application, setup.exe.
/S requests a silent installer, and /v lets the application know that you're going to pass switches directly to the MSI. This is why the command structure after the /v is enclosed in double quotes.
The /qn portion is MSI-speak for no user interface, while the REBOOT=R portion is toReallySupress the reboot. ADDLOCAL is describing what features to install locally, while REMOVE states to toss out the HGFS (Shared Folders) feature. This way ensures that new features will be added without having to call them all out in a list.
If you trigger an automatic tools upgrade via the vSphere Client, you can paste this string into the advanced options box.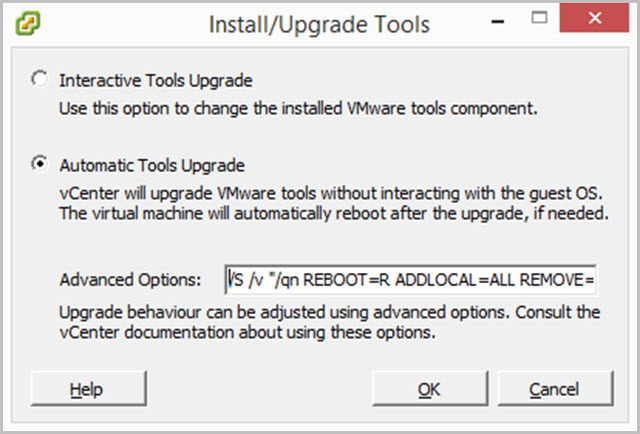 Doing so will trigger a VMware Tools install for the missing feature(s) and display a newInitiated VMware Tools install or upgrade task for the VMs you selected. The process took about 10 seconds on my Windows Server 2012 VM.

Once completed, the missing feature is now installed.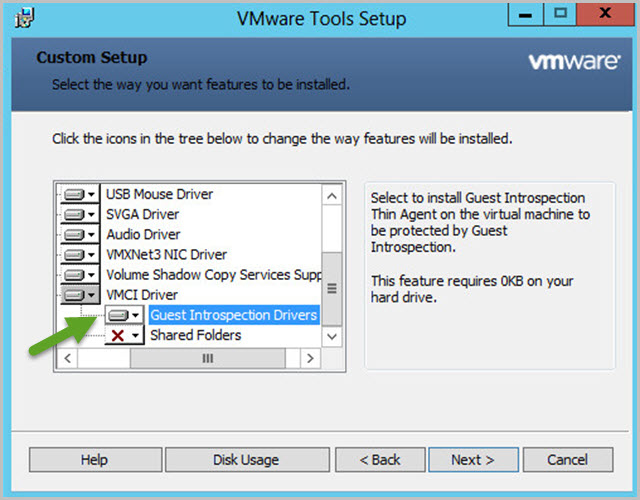 Note that you can also use a script that calls the setup.exe installer, or just bake this into your template / bootstrap process.
Credit: Wahl Network