Applies to:
Windows Server 2008R2, Windows Server 2012R2, Windows 10
There are two ways this can be accomplished depending on your needs for the controlled environment.
GPO:
I would like to first clarify that there is not a single GPO to just hide TABS in IE11. There is however a way you can enforce IE in Full View Mode which by default will remove the TABS and Address bar via a GPO.
The GPOÂ  you can use to enforce the Full-Screen view is available on both Computer and User configuration policy. Below is the gpo location path in group policy editor console.
GPO NAME: Enforce full-screen mode
LOCATION: Computer or User configuration –

Computer Configuration\Administrative Templates\Windows Components\Internet Explorer

KEY LOCATION: Software\Policies\Microsoft\Internet Explorer\Toolbars\Restrictions
SCREENSHOT: GPO CONSOLE

WINDOWS REGISTRY:
This will cause the IE address bar to not show. I disabled the Navigation bars too so it gives a clean window experience.
SCREENSHOT: REGISTRY LOCATION WITH VALUES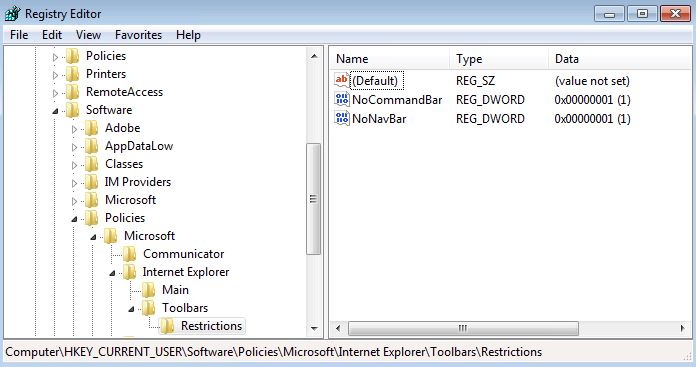 Download the Registry file.
The GPOÂ and keys will cause the browser to open in full view with no address bar or tabs